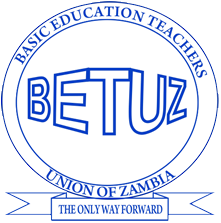 The department links all union departments and its various publics. The department is incharge of all matters pertaining to media relations and liaise with the media.
•The public and International relations link department with all international organizations that the union is affiliated to, or is member to.
•The department also handles all union publications and the corporate image building for the union.
• It is the responsibility of department to defend the institution on public attack and also give a correct position of the institution
ANTUSA Programme in Durban, 2015
Education International Conference in Kenya, 2015
Education International Conference in Kenya, 2015
Director - Public & Int. Relations
LINKS
ABOUT BETUZ
Code Of Ethics
BETUZ Constitution
MEMBERS
Member Area Login
BETUZ PARTNERS
ANTUSA
EI
ZCTU
Status Agency
Blue Financial Services
PMEC
BETUZ INITIATIVES
Materials Loan Scheme
Scholarship Contributions
Financial Assistance